​​
It's a new(ish) year, and like the rest of you, we're taking a good, long look in the mirror. Thankfully, we like a lot of what we see. We have cool content, an incredible community, and a collection of uber-talented artists. But we also realize that if we want to keep this good thing going (a.k.a.- if we want to stay in business), then a few things need to change. We're starting with two. There will be more as the year rolls forward, but this is a good place to start. 
We know change can be uncomfortable, so we're gonna do our best to keep this simple and straight-forward. No coddling. No spinning. Just straight-up truth. Here goes:
Beginning February 1st, we'll be making the following changes on Shirt.Woot:
• Overhauling our Prices and Pricing Structure
​   Hint: They're getting simpler but going up (mostly)
• Switching Our Standard Brand Tee
   Hint: Replacing Anvil with Port & Company (and we couldn't be happier)
• TL;DR - Well Shirt.Woot, What Now?
   ​Hint: For those who want to skip all the details (ain't got time for that!)
​​​
OVERHAULING OUR PRICES
For only the second time in our 10-year history, we're raising our prices. Mostly. We say 'mostly' because there are one or two cases (thanks to our complicated pricing structure) where the price will decrease or remain flat. But for the most part, prices will go up. And we'll be making a few other changes while we're at it. Changes begin February 1st. Here's what you need to know:
New, Simplified Pricing
Charging a different price for every event type is so 2017. Beginning February 1st, all shirts featured on the front page of the site (i.e., Dailies and Plus Sales) will be $15, and everything else (i.e.- Catalog and Top 20) will be $19.
Standard Shipping Included in New Price (U.S. orders only)
The new prices listed above will include Standard Shipping for all domestic orders. (We'll get to you International folks in moment.) Beginning February 1st, this means that a $15 shirt will actually be a $15 shirt, not a $15 shirt + shipping. So whether you think of it as "free shipping" or think of it as "shipping included," we think it's an improvement.
Express & International Shipping Options Get An Update​
Don't worry, we didn't forget about you folks who like to get your shirts a little quicker Beginning February 1st, the cost for Express Shipping will drop from $10 per order to just $5 per order. Huzzah! And for folks who live outside the U.S, the cost for International Shipping will remain $10, but will now be charged per order rather than per event. So whether you buy one shirt or one hundred, $10 international shipping will make it easier to spread Shirt.Woot cheer all across the globe.​
Two Shirt Options, One Shirt Price
Spoiler Alert: We're switching suppliers for our 'Standard' brand shirt (more on that in a bit). This change means we'll now be offering two high-quality shirt options. And since they're both great, we're eliminating the price difference between the two brands. This means that inside any given event (be it a Daily, a Plus Sale, or otherwise) you will only pay one price for the shirts featured there, regardless of the brand you choose.​
Phew. That's a lot. We've summarized all the important bits in these fancy charts. Take a gander. 
*Hey International Shirt Customers! Your shipping prices will be $10 per order instead of the current rate of $10 per event.
Switching Our Standard Brand Tee
Bon Voyage, Anvil. All Aboard Port & Company!
No one is thrilled with change. We get it. Fortunately, no one is really thrilled with our Standard Anvil shirts, either. What we ARE thrilled about, are the shirts we're using to replace them: Port & Company. In addition to having a cool, nautical name, Port & Company tees keep the things we DO like about Anvil shirts, and adds some much-needed features that we think will be a big improvement. But you don't just have to take our word for it. We recruited a few customers, artists, and other staff members to help us test out the new shirts, and the feedback has been overwhelmingly positive. We've asked them to help weigh in on the change in the forums, so keep an eye out for any comments or pictures they may share.
In the meantime, here's OUR take on the new Port & Company shirts: 
Print Quality
For a multitude of technical reasons (like lower broken-fiber counts and better fixation absorption rates), Port & Company shirts produce better, more consistent prints. Snazzy! 
Fit & Fabric
Both Men's and Women's Port & Company shirts have wider shoulders and longer sleeves than either Anvil or Bella Canvas. This gives them a looser, more comfortable fit. More like a classic tee. They also have a smaller collar than Anvil. We like them. 
As you'll see in the charts below, the Port & Company Men's shirts have very similar measurements to both Anvil and Bella Canvas, but the fit (especially in the sleeves and shoulders) is VERY different. So don't be fooled. 
Port & Company Women's shirts are slightly narrower than Anvil, but are much wider than Bella Canvas tees. They're also tailored to flare more at the hip (like an hourglass… see pics below), than either of the other brands.
Port and Company kids shirts have looser fit than either Anvil or Bella Canvas because they are longer and wider (especially in sizes K8 - K12).
Port & Company shirts are manufactured in Honduras and, like our other brands, are made from 100% combed, Ringspun cotton. Like Anvil, Port & Company shirts are slightly thicker than Bella Canvas shirts (4.5 vs. 4.2 oz). 
SIZE COMPARISON CHARTS
(For the number folks)
Men's Sizes
Women's Sizes
Kid's Sizes
SIZE COMPARISON PICS
(For the visual folks. Click an image to see a larger version.)
FIT COMPARISON - MEN'S
(Navy Port & Company in back, Silver Bella Canvas in front)
FIT COMPARISON - WOMEN'S
(Navy Port & Company in back, Silver Bella Canvas in front)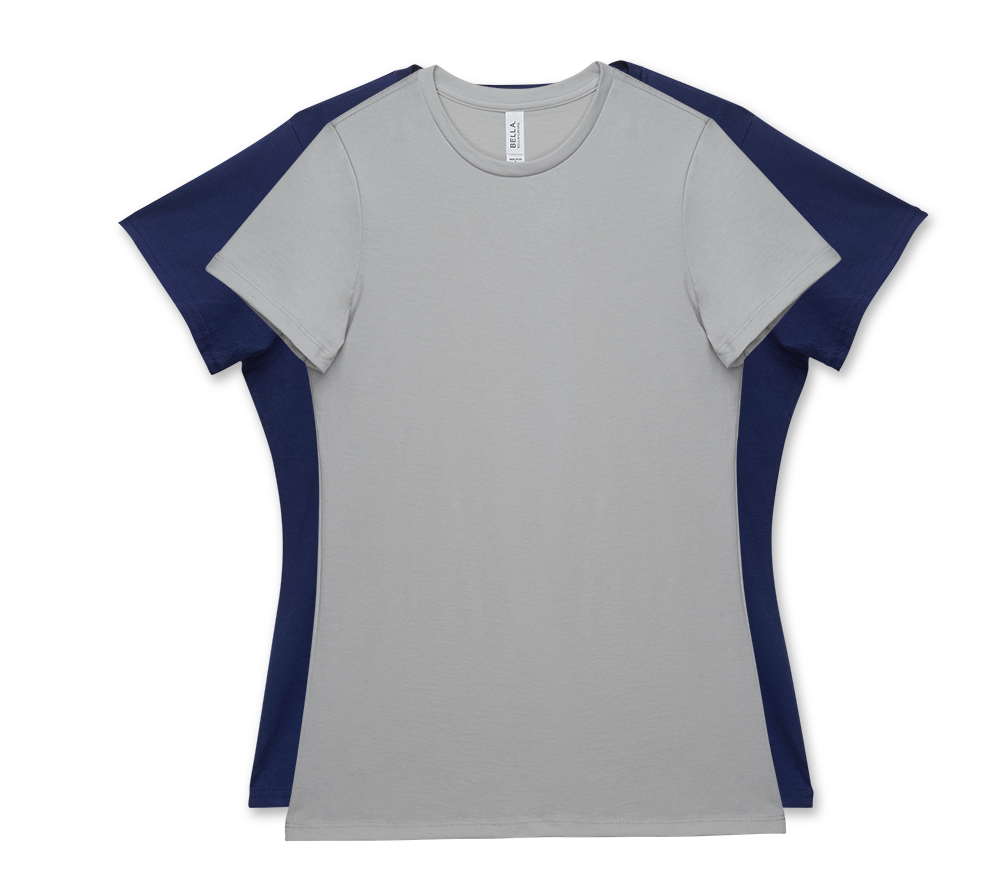 Updated Sizing Guide​
Don't worry if you can't remember everything. All the important information about size and fit are included in our new (and MUCH improved) Sizing Guide. Make sure you check it out beginning February 1st. As always, the link will be in the "Features" tab of all our shirts. 
New Shirt, New Site Labels
Right now, our shirt brands are labeled "Standard" and "Premium." But we think our Port & Company shirts are every bit as premium as Bella Canvas. Plus, with the simplified pricing structure we talked about previously, both brands will now be the same price. As such, we'll be changing the brand labels so they focus on fit, rather than quality. The new labels will be "Classic" (replacing Standard), and Fitted (replacing Premium). 
Ready For Launch
The switch to Port & Company will officially take place on February 1st, but converting our entire warehouse is a pretty big task so there will be a short period of time in the lead up to that date where both Anvil and Port & Company shirts will be on the shelves. As such, orders placed between January 30th and February 1st have the potential to be fulfilled with either brand (don't worry, the price will be the same, either way). Who doesn't love a little extra mystery and intrigue? Or better yet,  you and your friends order a bunch of shirts and play shirt roulette.
TL;DR- Well Shirt.Woot, What Now?
If you made it this far in the blog post, congratulations. We know this was a lot information to take in at once. We're here to answer any questions you may have about pricing, shipping, shirt brands, or any other changes in your life you want to share.
If you scrolled down this epic-lengthed blog post without reading it and now you're wondering what the heck you missed, here's a quick summary:
Beginning February 1st:​
We're raising our prices (mostly), but simplifying our pricing structure
​Standard domestic shipping charges will be included in the price of the shirt
We're replacing Anvil brand tees with what we consider to be the far superior Port and Company brand
And that's it for now. Before you go, there's one last thing we want you to know: WE LOVE YOU GUYS. Seriously. And we wouldn't make these changes if we didn't 100% believe that they are necessary. We want to keep this magic thing called Shirt.Woot alive and thriving for years to come. And most importantly, we hope you'll continue to stick around for the journey as we continue this wild Shirt.Woot ride. We couldn't do it without you.
Love Always,
The Shirt.Woot Crew